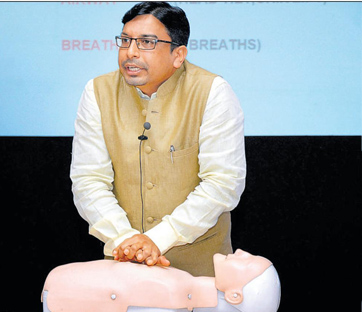 Dr.Dinakar.D
MBBS, MSc(PSYCH),PGDHA,PGDAE
Director –Vitals Healthcare.
Dr. Dinakar is a alumni of Bangalore Medical College.He also holds a Masters degree in Psycology and Post Graduate Diploma in Accident and Emergency care.Dr.Dinakar is a highly talented, multi-lingual training professional with over 13 years of experience in healthcare and Emergency Management trainings .He has conducted more than 2500 training programs for various hospitals, schools, colleges, companies, industries and other organizations all over India.
He has trained more than 4,25,000 participants in topics like Basic Life Support( First Aid), Fire safety ,Advanced Cardiac Life Support (ACLS) ,Emergency Medical Services ,Disaster Management , Evacuation drills ,Stress management, Ergonomics and various trainings on Health and Safety.
Professional Qualifications
Post graduate Diploma in Accident & emergency care(PGDAE, Annamalai University).May 2007
Post graduate Diploma in hospital adminstration (PGDHA, Indian Institute Of Management and Technology, Chennai).June 2006
Masters in Psychology (MSc.,University of Madras). May 2006
M.B.B.S. Bangalore Medical College (DEC '1996 – OCT '2001).
Experience
Director –VitalsHealthcare for 6 years, providing Healthcare trainings and services
M.B.B.S Graduate from Bangalore Medical College, Rajiv Gandhi University of Health Sciences.
Ex-House Officer at Fortis Hospitals.
Ex Senior Lecturer in Bangalore Institute of Nursing.
Other courses/certifications/Achievements
BLS Course (AHA -American Heart Association) at St.John's Medical College, Bangalore
ACLS Course( AHA -American Heart Association) at St.John's Medical College, Bangalore
Disaster Management Training (Apollo Hospitals,Hyderabad)
Emergency Medicine Procedural and Clinical Training-EMPACT (Apollo Hospitals, Hyderabad).
Live chat on satellite channel (TV9) for 45 mins,on heart care. http://www.youtube.com/watch?v=-vOA7ZQ6VPE&feature=share
Trained the Police Officers of Nelamangala police station,article published in Prajavani newspaper(25th June,3a).